The Giulia: Making A Statement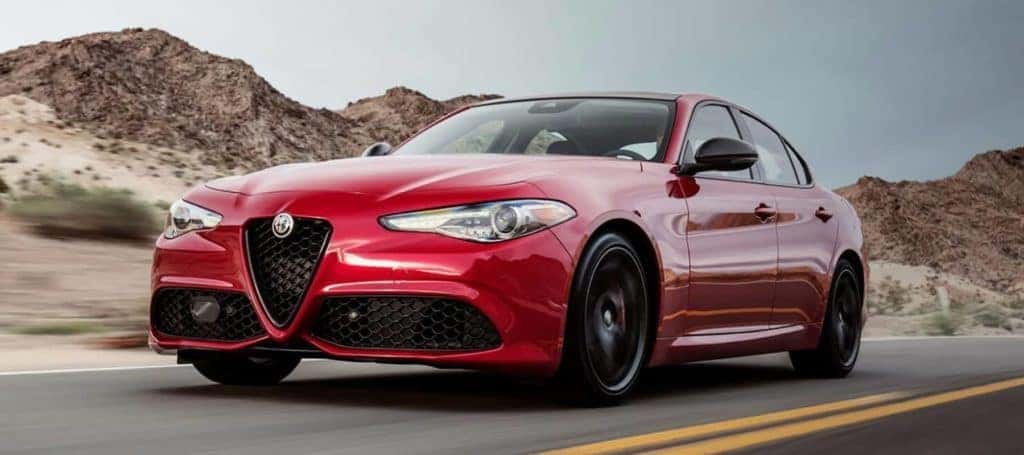 With its streamlined curves, iconic grille, and gorgeous Italian design, the Giulia sedan is sure to turn heads whether it's cruising through town or parked in your driveway. Of course, the Giulia promises much more than its stunning good looks, so check out what it has to offer on the inside and under the hood.
World-Class Comfort
The Giulia's high-end interior presents a handsome fit and finish, even for luxury standards, and a variety of upscale materials can be found throughout the spacious cabin. Up to five people can ride in long-lasting comfort, with thoroughly bolstered seating for extra support through sporty maneuvers. The plush seats are appointed with rich leather upholstery, and you can opt for available upgrades like the Quadrifoglio trim's Sparco carbon fiber racing seats or Alcantara leather. Legroom abounds in the sedan, with plenty of space for adult passengers to relax in the front or the back. If you have younger riders coming aboard, you can secure their car seats via two sets of LATCH connections in the back row.
Incredible Performance
While agility should be expected from the high-end luxury class, the Giulia sets itself apart with the sheer athleticism that only Alfa Romeo can provide. The Giulia delivers sports car-like performance in a sleek sedan with graceful handling and a remarkably smooth ride. It grips the road while carving corners to maintain its elegant poise, and the steering is enduringly responsive at any speed. Alfa Romeo's fine-tuned suspension system remains balanced along twists and turns and cushions any bumps along the way to keep you and your passengers cruising in undisturbed comfort.
The Giulia is well behaved in city streets and demonstrates rocket-like acceleration on the open highway, all thanks to its potent powertrain options. The car comes standard with a 280-horsepower 4-cylinder, while a ferocious 505-horsepower twin-turbocharged V6 is available for the Quadrifoglio variation. Even with all its formidable energy, the Giulia demonstrates reserved gas mileage among its luxury rivals.
You might also like: Discover Why The Stelvio Quadrifoglio Is Much More Than The Fastest SUV In The World
Safford Alfa Romeo of Tysons Corner
If you would like to learn more about the Giulia, we would love to speak with you at Safford Alfa Romeo of Tysons Corner. Contact us today to take the first step toward starting the engine of your own Italian luxury car!