Compare The 2018 Alfa Romeo Giulia Against The Competition
If you are taking a hard look at purchasing or leasing the 2018 Alfa Romeo Giulia, you've come to the right place. Safford Alfa Romeo of Tysons Corner has taken the time to put the 2018 Giulia head to head against the competition. In this space, you can review the Giulia versus similar models from BMW, Mercedes, and Audi in order to confirm you are making a wise decision.
Of course, all of our product specialists at our dealership serving the Arlington and Washington, D.C. areas will also be happy to answer all your questions. They are intimately familiar with all our Alfa Romeo models, including the Giulia, and can provide details you may need to make an informed decision.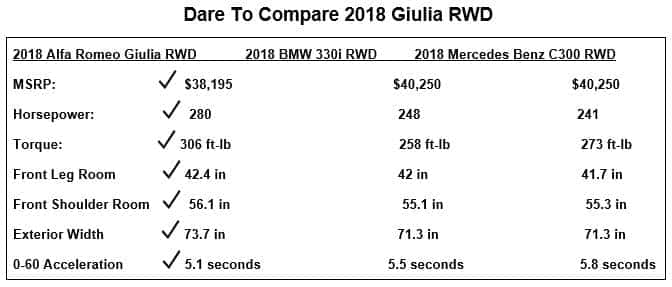 Interpreting The Results of the 2018 Alfa Romeo Giulia Comparison
As you can see from the chart above, the 2018 Giulia holds key advantages over competing models from Mercedes-Benz and BMW in many areas. Two big ones that stand out are horsepower and price. The 2018 Giulia is priced less than both models from BMW and Mercedes while offering more horsepower. For anyone familiar with the heritage of the Alfa Romeo brand, this shouldn't come as a surprise given the automaker's Italian racing roots. The fact that they do it at a better price than the competition is definitely a key factor to consider.
Does it Make A Difference If I Go With the 2018 Giulia All-Wheel Drive Version?
If you're considering the all-wheel drive configuration of the 2018 Alfa Romeo Giulia, the comparison stats above hold true, as well. That's even if you throw the 2018 Audi A4 all-wheel drive version into the mix. You're still going to pay less and get more horsepower along with all the other benefits. Keep in mind that adding all-wheel drive into the mix does increase the cost a bit no matter which manufacturer model you end up going with.
2018 Alfa Romeo Purchase & Lease Specials In Vienna, VA
Now that you are properly armed with the facts about the 2018 Giulia versus the competition and see what a superior value it is in every way, it's time to contact us online to set up a test drive at Safford Alfa Romeo of Tysons Corner.
We'll pull the Giulia models you want from our inventory and have them ready and waiting for you at our dealership located at 8448 Leesburg Pike Unit A, Vienna, VA 22182. You'll also learn all about our incredible purchase and lease specials available on all our new Alfa Romeo models.
So, what are you waiting for?
Head over to our dealership to start driving some of the most finely crafted and performance oriented luxury vehicles in the automotive industry at Safford Alfa Romeo of Tysons Corner.
*Comparisons based on published documentation of comparably equipped models.